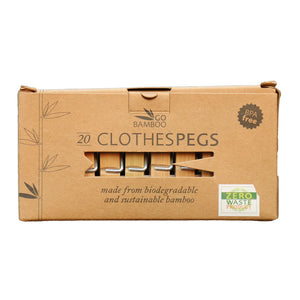 Bamboo Pegs - 20 pack
Sale price Price $6.00 Regular price Unit price / per
Tax included.
Shipping
calculated at checkout.
Go Bamboo Clothes Pegs are made from biodegradable bamboo with recyclable metal springs, making them a plastic-free essential for every household.
Bamboo clothes pegs are durable, strong and resilient to outdoor conditions.  Unlike wooden pegs, bamboo contains very few tannins and will not stain your clothing - phew!
Bamboo pegs offer a sustainable alternative to plastic pegs, which are often found washed up on beaches after falling off the line and getting flushed down storm water drains into the sea.  
The pack of pegs are also packaged in recycled cardboard, ensuring the whole process is plastic-free.
Additionally, bamboo is a naturally organic, water efficient crop that is 30% more effective at absorbing carbon than trees.
To prolong the life of these pegs we recommend not leaving them out on the line in the weather.